Day 10 - A photo of you taken over ten years ago

Because I'm lazy, I'm using a pic I already uploaded to photobucket.




This is me, in Kindergarten. I loved that dress. For some reason, I remember every article of clothing I've ever owned. Is that weird?

Oh, and while I'm digging in photobucket, here's another one - in this one I'm in my early twenties.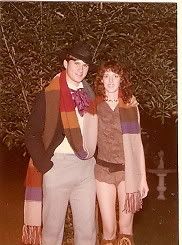 That scarf was the first thing I ever knitted, and I did it in less than a week. It's about 14 feet long. Which is why I didn't pick up knitting needles again until 25 years later.