Well, we finally got the tree up. Husband hung the stockings and outdoor lights last weekend, but we couldn't put up the tree because we didn't have room, what with the piano now occupying the corner where the tree used to go, and the tree too big to fit anywhere else in the room. Husband suggested foregoing the tree altogether and just having a Christmas Piano instead, the idea of which for some reason totally charmed The Boy.

But I am a traditionalist, and a stubborn sort, so Friday bought a new - skinnier - tree. I was tempted more than once to just get a live tree, but that way lies madness. OK, not madness, but lots of hacking and coughing and chesty rattling and misery. Then yesterday we had to buy new lights, because Husband used the old lights on the house. I bought three strings of 300 lights. It's possible 900 lights is too many for a skinny tree, but I somehow managed to miss a spot anyway. Fortunately, it's a spot that isn't really obvious.

So now, the halls are decked and things are much more festive around here.



This is the new spot for the tree. It looks pretty at night with the lights reflecting off the window.



See?



Here are the stockings all hung by the chimney with care.



Here are my winterbears.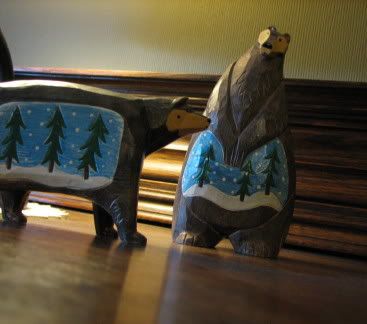 And one more, just because I like sparkly things.