Middle Daughter was
Dr. Horrible
(probably more about the adventure that was her costume later) and The Boy was a Clone Trooper.
Here she strikes a Horrible pose - by the way, the costume has gauntleted gloves, but she hadn't put them on yet - I say that to explain why the sleeves are so long/unfinished so you don't think I'm an even lazier seamstress than I already am.
The Boy is very excited about going to the party/going trick or treating.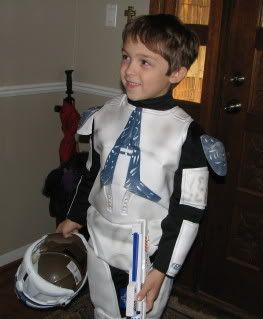 We go down the street to my cousin's house. Have I mentioned that she really, really loves Halloween?
Even the food is scary!
My sister and I both threw together costumes at the last minute, and apparently great minds think alike.
Cinderella (in the dress the mice and birds made) and Minnie Mouse. I wish I had gotten a better picture of this dress, because it was really amazing.
Goodnight, everyone!