Not many, because 1) only one wall is done and 2) I can't really use my hands.

I didn't tile, btw. After I managed to get the end of the tape measure almost inextricably caught in the faucet mechanism while measuring the wall, everyone agreed it was best if I just stayed out. I did peel all the stickers off two boxes of tile, and spent the day scrubbing the rust off my outdoor furniture with a little wire brush, and then painting it. Note to self: In my next life, get cast aluminum, not cast iron. Also something without a heavily carved pattern.

In any case, I did snap a couple of pictures.


This is the wall we tiled; it's the one where the shower head and faucet will be. The mosaic tile is also going to be the floor tile. The colors are much more muted than the picture makes it look; also not so much with the browns.




The stripes will go all the way around the tub surround.

And this is the new window - the old one was a full window with shutters that we kept closed and were impossible to keep from mildewing. So we (meaning my BIL, who has done all the work except the painting/tiling) ripped it out and framed in a half window, which is a stationary window with pebbled glass for privacy. It's not painted yet, but you can see the wall color.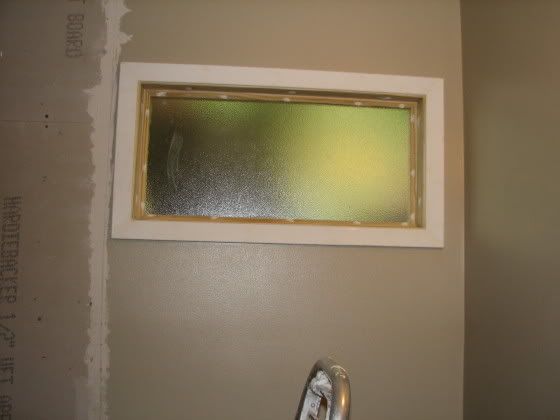 So, we're almost there!! The vanity is also done and just needs painting. Besides the tiling, still to do:

The ceiling light/vent
The light over the vanity
Paint the vanity, and put on the pulls
Install the faucet/shower head
Put back the toilet

And...we're done!!