I completed the baby blanket, and gave it to my friend, even though it was decidedly trapezoidal. That's how you can tell it's hand made, right?

So I started on a scarf for Husband, but ran out of yarn, and haven't had a chance to get more. Middle Daughter decided she wanted to learn how to knit before going on her Mo Ranch trip. So now this is what the evenings look like around here: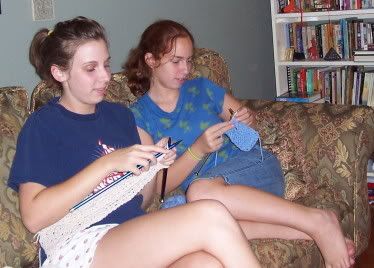 Husband says we look like a bunch of old women. I guess he's right about one of us, lol.



The Boy is still drawing. Here's one of the latest he brought home from school:
I wonder if his preschool teacher wonders about our homelife?
Husband bought him the Shark Week! DVDs and so today The Boy drew this:
In case you couldn't tell, it's plans for a "Punching Mechanism" to fend off sharks. It's apprarently powered by compressed air (thus the can in the upper left corner). I love the arrows.
Last night we gave a surprise housewarming party for my niece, who will be moving into her first apartment this fall. My almost-cousin Jackie made her a "cake" of dishtowels and other kitchen stuff. I'd seen it done with diapers/burprags before, but never kitchen things. Pretty cute!! Here's a pic of my niece with the towelcake:
And that's enough randomness for now, I think.