As much as I wish I were clever enough to make this stuff up, it really happened...

1) I have a monkey on my desk at work. I love my monkey. It was a gift from my mom, and it's a pen holder. I have previously featured this monkey in a DITL, so you might remember it: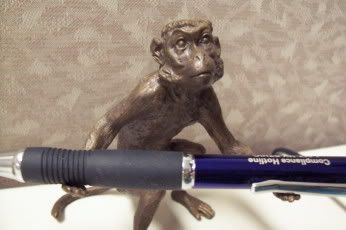 If you look closely, you might be able to see that the writing on the pen says "Compliance Hotline". That's because the pen was given to all the employees when the new Ethics Hotline was rolled out. It's my Ethics Pen.

Today, when I got to work, I realized that my monkey was empty handed. Yes, you guessed it - someone stole my ethics pen.

2) Middle Daughter started the year in IPC science. She started off OK, but soon fell behind, as did several others in the class. Technically, anyone with a less than C average should have been moved to regular science, but the teacher was reluctant to move them. She kept them in the class, then around the first of the year decided it was time. Worried that the kids being moved would be behind in the regular class, she gave all the IPC students a comprehensive test over the entire regular science curriculum. Middle Daughter aced it.

So, the teacher kept her in IPC, with the caveat that she had to attend tutoring. Despite the tutoring, Middle Daughter's grades were still not up to par, so the teacher finally - reluctanly - moved her to the regular science class.

Flash forward to the present, when Middle Daughter gets a report card and is now failing regular science. A teacher's notation remarks that she is missing some work. So Middle Daughter talks to the teacher, to find out what work is missing, and see if she can still turn it in, because she needs to pass this class to graduate to high school.

And it turns out that the work that is missing is in her "class notebook" - the one they use to copy the daily assignment off the board each day. This notebook is worth 50% of the total grade for the class.

Can you guess which assignments are missing? Go on...guess...

Yup. The assignments that were given before she was in the freaking class. Gosh - I wonder why those would be missing?