A bit of a while ago, Siskers posted about finding the perfect purse. Her timing, as usual, was impeccable, because I have been on The Great Purse Hunt for months now. A hunt which has led me to the conclusion that people who design and manufacture purses hate women.

It shouldn't be that hard to find a purse. All I want is something that isn't so big I'm tempted to haul around collapsible furniture and an inflatable pool everywhere I go, isn't so small that I can't carry my keys and my glasses at the same time, isn't so heavy that I list to starboard when I'm carrying it, isn't so ugly that I'm ashamed to be seen with it in public, zips closed so I don't lose everything in it, and has more than one compartment so I don't spend hours digging through it whenever I need something.

That's not too much to ask, is it? I didn't think so, until my old bag started giving up the purseghost and I started looking for a replacement.

I should mention that buying a purse, for me, is a big deal. I don't have a collection of handbags. I don't change purses to match my outfits. I buy a purse, carry it every day until it falls apart, then buy another one. Oh, I have an evening bag for the occasional night out, and a minibag for weekend outings when all I need is my glasses, keys, and some spare change, and a few really cute medium-sized totes that my SIL made for me (one is made from the same fabric I used to cover my dining room chairs - how fun is THAT!?). But none of those are my every day bag.

I wasn't always so picky. In high school, everyone carried massive totes, crammed with anything we thought we might need in case the school was mysteriously teleported to a deserted island. Mine always contained a pocketknife, snacks, two different flavors of lip gloss, wild cherry life savers, and seventeen shades of brown eye shadow, plus whatever I had happened to pick up along the way. Once, when we were taking self-defense in gym class, the teacher asked us to find something in our purse that we could use as a weapon. My friends pulled out perfume spritzers, hair picks, and keys. I reached in my purse and pulled out a railroad spike.

These days, I don't feel the need to carry my whole life with me wherever I go. I still carry not one but two pocketknives, and usually a mint or two, but the lip gloss and the eye shadow and even the railroad spike remain behind. The less I carry, the pickier I am about what I use to carry it.

Which brings us back to The Great Purse Hunt. After hitting department stores, discount stores, goodwill, and zillions of internet sites, I finally just broke down and bought a purse. It's a little too big. It's a little too heavy. It has only one compartment, although it does have open pockets on each side that I can shove receipts and phone numbers and permission slips into. And, it's pretty cute: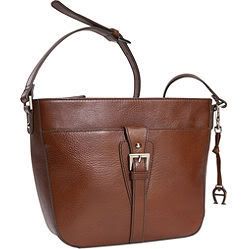 I got it in a deep red, but I couldn't find a picture. It's actually cuter than this picture makes it look. AND I got it on sale.

I am pursed.