My mom not only made curtains for The Boy's room (I think I posted earlier about picking out the fabric), she took the leftover fabric and made him a really cute pillow sham.

Here's the pillow: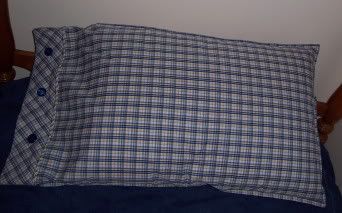 And here is a closeup of the detail on the edge. Isn't it just too cute?



And here's the best I could get where you can see the curtains and the pillow together. The curtains really draw out the blue on the ceiling. I tried to get a picture of the clouds on the ceiling but the lighting was wonky.