Last week I didn't do DITL day because we were still at my parents' and I didn't have access to my computer. Well, I did have access to my computer, but it doesn't take kindly to being turned on when it's 85 degrees in the house. And I was bummed because it was the day I had CERT class and we did first aid and I could have gotten some cool pictures of us splinting each other.

Today was DITL day for this week, and I started off fairly well. Better than usual, actually. I generally forget I'm supposed to be taking pictures, but this morning I hauled the camera all over the house with me. And then when I got to work, I left the camera in my car. And it wasn't the sort of day where I had time to go back to the parking garage to get it. So I'm not actually submitting a DITL this week, but as a special treat for you, gentle readers, here is my morning.
I check the calendar. Yay! It's a DITL day!


I watch the morning news on TV while I check my mail, then it's time to get ready




I pass a still-sleeping-in-my-bed boy on the way to my closet. What to wear?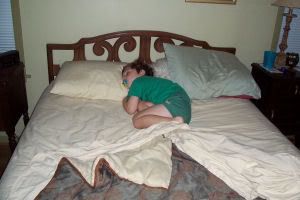 I get dressed and try to ignore the disaster that is my bedroom. By the time I'm done, The Boy is awake.




Quick kisses for everyone, then I drop Middle Daughter off at school.




Then comes the 11-hour black hole that was my workday. The end.